Transitioning back to work will be an adjustment but many of us already know, or have an idea, of when our companies will want us to return to the office. I have been preparing my wardrobe, and mind, for more in person interaction. One key thing I have started wearing again are shoes. I don't know about you but walking around barefoot for one year wasn't the best option for my feet, so I started wearing sandals and comfy flats at home.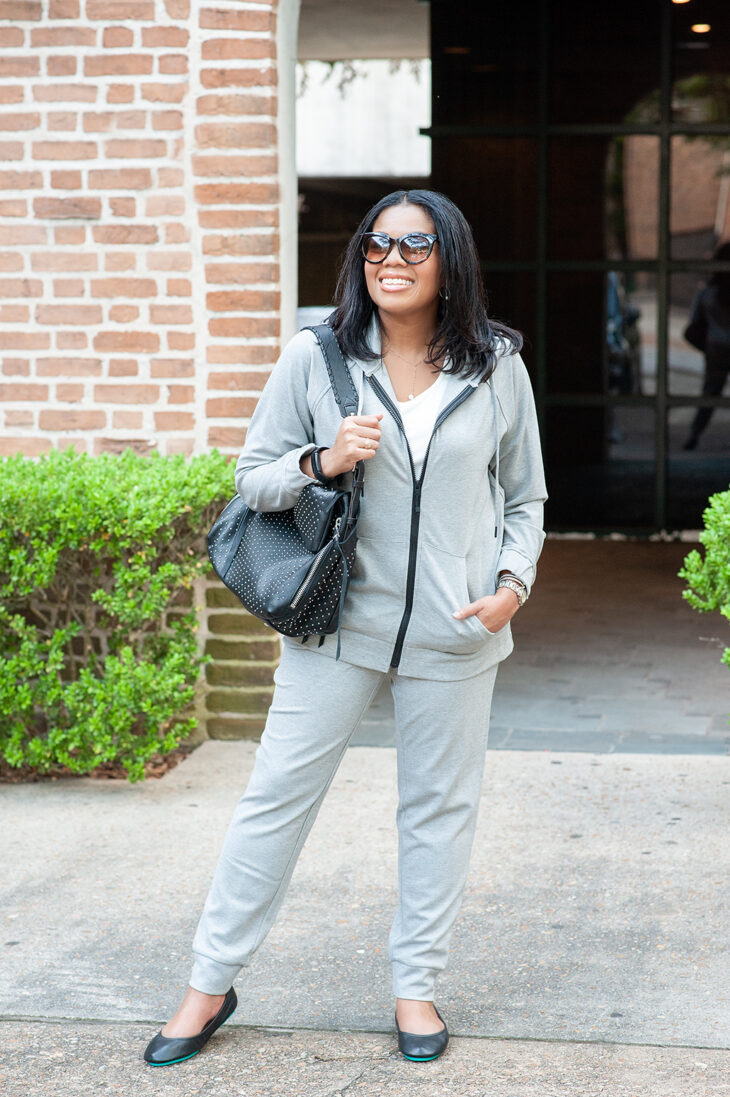 Recently, I got another pair of everyone's favorite Ballet flats, Tieks! I have another pair of Tieks in cotton candy pink that I LOVE (and my popular blog post on them is here) however, I decided to be more practical and get a black pair. (Because who doesn't need a pair of classic black ballet flats?) When I received them, I fell in LOVE. The black leather is easy to wear, the leather is soft and supple, and they mold to your feet after wearing them a couple of times. While Tieks are great shoes, here are some facts that I think may make it easier to decide if they are a good choice for you.

Here are some basic facts and tips on wearing Tieks:
There are no half sizes in Tieks- This concerned me initially as I wear a 7.5 in most shoes however, Tieks has amazing customer service. It was suggested that I try a 7 and an 8 to see which size worked best for me. I did not wear the shoes outside but after walking around in both pairs inside, I decided on the size 7.
It takes time for the shoes to really mold to your foot- I fell in LOVE with my first pair of Tieks. They were in the shade Cotton Candy and are patent leather however, it took several wears, at least 7-10, for this pair to soften and I was concerned that maybe I needed a different size. (I actually wondered if the shoes were a good fit for me) After watching numerous YouTube videos and reading multiple blog posts, I realized that because of the quality leather used, it would take time for my Tieks to really mold to my foot. The wait however was worth it. I will say that my new black leather Tieks are much softer and my foot has adjusted easily. I know that over time the comfort will only increase. If you want your Tieks to mold to your feet quickly, try one of the classic leather pairs first before venturing into the patent styles.
Tieks do not have "arch support"- Tieks are a foldable ballet flat and do not have arch support however, they are supportive and the website states they can be worn with orthotic inserts. If you need to pair your Tieks with orthotic inserts, I suggest coordinating with customer service.
Tieks come in a VARIETY of colors and styles-If you love color, you will love Tieks. Tieks come in a variety of styles and colors. In fact Tieks come in over 60 prints, patterns, classics and more! I love that there are casual Tieks and even Tieks appropriate for formal events, like weddings.
Tieks are not cheap, but they are worth it- I wrote about this in my first blog post on Tieks but they are an investment.
I have already started wearing my black pair of tieks to the office and on weekends. At work, I fold my Tieks and put them in the carrying case provided if I want to switch to my heels. On weekends, I wear them everywhere! Please let me know if you have more questions about them in the comments.